Industry: Books
Over 70 Independent Authors, Illustrators, and Cover Designers Honored With a BIBA
Hendersonville, NC (PRUnderground) December 17th, 2021
Television and film screenwriter, producer and director, J Michael Straczynski is among those named as a 2021 BIBA recipient.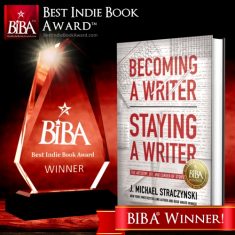 Over 70 authors, illustrators, and cover designers have been named as the winners of the 2021 Best Indie Book Awards. The BIBA's, as it is referred to by many, is an international literary award now in its 10th year. Each winner will receive a custom trophy, their name, and book listed on the BIBA website and promotion throughout the year.
Since the dawn of the written word, writers have played a major role in society. During hard times, they have provided a lifeline to many around the globe. Best Indie Book Award works to give recognition to outstanding independent authors.
According to BIBA's coordinator Cassandra, "For centuries, to their eager readers, storytellers have provided joy, laughter, tears, rapture, and every emotion under the sun, not least of which is the greatest gift storytellers give us in the form of escapism. When writers sit down to collect all those ideas in their head and form them into a book, they probably don't realize that they could change someone's life, give someone hope, or make someone laugh. Through plague, through wars, through all kinds of global catastrophes, storytellers have offered people a moment to stop thinking about the world around them and instead to become immersed in the world of their creation. If only momentarily, storytellers lift people out of tragedy, take us to other places, show us humanity. Throughout these discouraging months, authors have channeled their abilities into new books all along the way. Escapism became a lifeline for so many people across the globe. Their efforts, their creativity are a gift to the world."
And the 2021 Best Indie Book Awards go to:
Action/Adventure
There Be Monsters
Dylan James Quarles
Children
If You Could Ask Your Dog One Question
Kim Messina
Children's Middle Grade/Tween
Sheltered: When A Boy Becomes A Legend
Jacob Paul Patchen
Young Adult: Superhero Action
Sidekick
Jaime Castle & CJ Valin
Young Adult
All The Things We Didn't See
D. A. Reed
Fantasy
Scales of Ash and Smoke
Emily Schneider
Christmas Fantasy Fiction
The Present
Geanna Culbertson
Historical Fiction
Ernestine
Kate Reynolds
Humor/Satire/Action
Get Idiota
Nate Granzow
LGBTQ Coming Of Age
Dancing To The Lyrics
Dwayne A Ratleff
LGBTQ2 Non-Fiction
Awakening The Light Warrior Within
David James Di Pardo
General Fiction
Duplicity
Peter Selgin
Mystery/Cozy Mystery
The Drop-Dead Temple Of Doom
Heather Haven
Novella
Webb Wilder: Mole Men & The Doll
Shane Caldwell & Steve Boyle
Occult/Horror
Goddess Of Everything
Paul DeBlassie III
Paranormal/Supernatural/Mythological
Golden Light
Anne MacReynold
Poetry Collection
Notes On The Train
Loreen de Kort
Contemporary Romance
Chasing Hope
Dana Wayne
Historical Romance
The Boxer And The Blacksmith
Edie Cay
Short Story Collection
Pearl City
Simon Rowe
Science-Fiction
The Perpetual Now
Jerome J Bourgault
Science-Fiction Action
Transference
B T Keaton
Suspense/Thriller/Espionage
The Chameleon
Ron McManus
Christian: Non-Fiction
Lessons From The Apostles
Glen A. Blanscet
Christian Non-Fiction: Financial Wisdom
Fight For It Financial
Nate James
Christian Self-Help
You Are Enough
Jonathan Puddle
Christian: Health and Diet
Healthy Eating, God's Way
Cathy Morenzie
Non-Fiction
Six Women In A Cell
Diana Tokaji
Non-Fiction
Live Like Sean
T J Nelligan
Non-Fiction: Acting
Monologues For Adults
Mike Kimmel
Non-Fiction: Aging and Gerontology
The Inner Work Of Age
Connie Zweig, PhD
Non-Fiction: Biography
The Brink of Freedom
Davan Yahya Khalil
Non-Fiction
Ruminations On A Parrot Named Cosmo
Betty Jean Craige
Non-Fiction: Business
Ramping Your Brand
James F. Richardson PhD
Non-Fiction: Career/Management/Leadership
The Career Toolkit
Mark A. Herschberg
Non-Fiction: First Job Career Advice
Hello, Career
Ed Bray
Non-Fiction: Women In Business
The Adventures Of Women In Tech
Alana Karen
Non-Fiction: Dog Training
Nose To Tail Workbook
Louise Harding
Non-Fiction: Dementia Caregiving
Life-Giving Dementia Care
Toni Kanzler
Non-Fiction: Cookbook
One Loaf At A Time
C J Katz
Non-Fiction: Grieving And Bereavement
Harnessing The Power Of Grief
Julie Potter
Non-Fiction: Health
In The Time Of Covid
Paul Rosengren and Adam Jarrett MD
Non-Fiction: Health/Cognitive Impairment
I Want My Mind Back
Tony Dearing
Non-Fiction: Military History
The Party Dolls
George Hayward
Non-Fiction: SocioEconomic History
The Economic Condition of Black America in the Twentieth Century
Germinal G Van
Non-Fiction: How-To
FPV Flight Dynamics
Christian M Mollica
Non-Fiction: Ichthyology
The Bichir Handbook
Joshua Pickett
Non-Fiction: Inspirational/Motivational
Butterflies In The Trenches
Curtis Carmichael
Non-Fiction: Inspirational/Motivational
You Are Enough
Charlene Wheeless
Non-Fiction: Memoir
Remembering Shanghai
Isabel Sun Chao and Claire Chao
Non-Fiction: Mental Health Memoir
Safe, Wanted, and Loved
Patrick Dylan
Non-Fiction: Substance Abuse Recovery Memoir
The Unfair Advantage
John Robert Eddy
Non-Fiction: New Age/Mysticism
Bhakti: Journey Of Soul Discovery
Jennifer Duke
Non-Fiction: Parenting
Raising Kids Who Care
Susy Lee
Non-Fiction: Religion/Spiritual
From Their Lips
V K McCarty
Non-Fiction: Self Help
Comparisonitis
Melissa Ambrosini
Non-Fiction: Self Help
Women, We're Only Old Once
Bertha D Cooper
Non-Fiction: Theology
A Theology For The Rest Of Us
Arthur Yavelberg
Non-Fiction: Travel/Photography
Photographing Iceland
James Rushforth
Non-Fiction: Living Abroad
The Overseas Fabulous Pinay
Donna Avellana Kunzler
Non-Fiction: Women's Inspirational Gift Book
A Letter To Our Daughters
Jodi L Leffingwell
Non-Fiction: Writing
Becoming A Writer, Staying A Writer
J Michael Straczynski
Children's Book Cover
Makeda: The Queen of Sheba
Author: Marlon McKenney
Cover: Marlon McKenney
Children's Book Cover
Help Me Hide This Giraffe
Author: Brian Donnelly
Cover: Jeff Solway
Book Cover
The Gatekeeper's Descendants
Author: Johanna Frank
Cover Designer: Damonza
Illustrations: Graphic Novel
Nothing
Author: Michael Molinet
Illustrator: Michael Molinet
Illustrations
The Bichir Handbook
Author: Joshua Pickett
Illustrator: Dorian Noël
Children's Illustrations
Unwind. Up, Up, And Away
Author: Christopher Gates
Illustrator: Javier Gimenez Ratti
Children's Illustrations: Cartoon Funny
Help Me Hide This Giraffe
Author: Brian Donnelly
Illustrator: Jeff Solway
Children's Illustrations: Classic
You Got This
Author: Wanda Roush
Illustrator: Nataly Simmons
Children's Illustrations: Whimsical/Stylized
Theodore And The Cat With The Missing Sock
Author: Cory Q Tan
Illustrator: Cory Q Tan
"With millions of books being published every year, it's easy for an author to drown in a sea of electronic pulp. Winning an award for a book can go a long way when it comes to visibility and credibility as an author. Best Indie Book Award helps authors reach a broader audience, and readers can be confident in their purchase when they choose an award-winning book."
2021 Best Indie Book Award Contest Submissions
Submissions are now open for the 2022 Best Indie Book Contest, 2022 Best Illustration Contest, and the 2022 Best Book Cover Design Contest. Entries are accepted online at BestIndieBookAward.com/submit/
About Best Indie Book Award
The annual Best Indie Book Award (or BIBA) is an international literary award contest recognizing independent authors. BIBA is a legitimate writing competition. Entrants compete against other book entries. Entries are limited to independently (indie) published books, including those from small presses, e-book publishers, and self-published authors. Submissions are accepted from around the globe, but the books must be written in English.