Pen Name: James M. Corkill
Website: http://jamescorkill.com
Tell us a little about yourself.
A:  I'm a Veteran, and retired Federal Firefighter from Washington State, USA. I also play a 12-string guitar and used to sing in a band. Many years ago, I used to write songs. I tried painting for a while, usually abstracts. I also get a lot of satisfaction from fixing or building things.
How do you feel that your career, educational background, and overall life experience contribute to your writing?
A:  I was an electronic technician and studied mechanical engineering, which helped in the technical aspect of my stories, and I do extensive research to make them as accurate and believable as possible.
Being a firefighter, I saw the genuine emotions of people, both in dire situations, and extreme elation. I think it helped in the development of my characters.
Where is your favorite place in the world to live and why?
A: The Puget Sound in the Pacific Northwest. I grew up on Orcas Island and love the small town attitude. There were only thirteen students in my high school senior class. I also enjoy boating and catching my own seafood.
Where is your favorite place in the world to visit?  Why?
A:  The Isle of Man, located between Ireland and England. It's where my great-grandfather and his family immigrated from, and a quarter of the people there have the same last name as me.
What is the funniest thing about your personality that fans would love to know?  What are your quirks?
A:  I refuse to wear baggy shorts that hang below my knees, and when cooking, I'm fanatical about coordinating the temperature of my stove to the timing down to the second.
What drew you to writing?
A:  I've always been a dreamer and discovered they could come true in a science fiction story.
Do you have anything special, a habit, that you do that gets you into the mood of writing?  Favorite object, desk, pen?  Do you listen to music when you write?  If so, what do you listen to?
A:  I don't listen to music because I find it distracting. Getting a slight buzz on in the evenings gets my imagination flowing and I can think outside the box.
Do you have a special place you like to go to write?  Do you do a retreat?
A:I don't do retreats, but I like to sit in front of a window, staring at the mountains while I jot down notes for stories.
Does your life experience influence your writing?
A: Yes, I've traveled all over the United States and British Columbia, and some places in Asia and Western Europe. I've worn many hats throughout my lifetime, now going on 65 years, so I have a lot of experiences to draw from.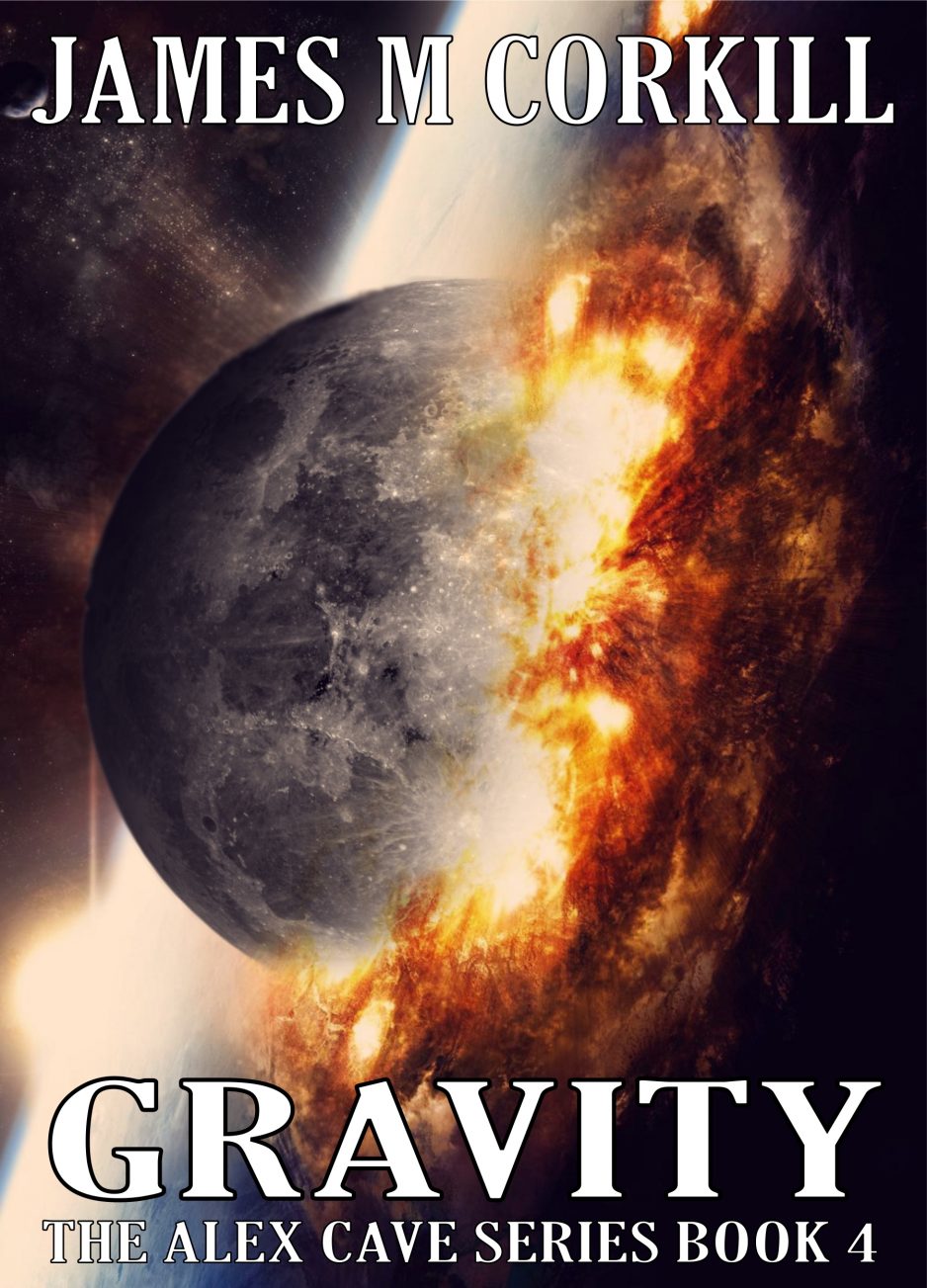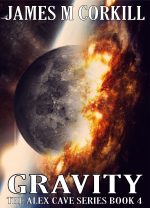 What was the inspiration for your book,The Alex Cave Series Book 4. Gravity.
A: The original Idea came from watching a special on TV about the amount of space debris in orbit. I wanted to find a way to collect it and bring it back to Earth, and the only way to make it possible was through science fiction. At least, for now anyway. Another TV special was exploring the changes in gravity at various locations around the world, and it gave me a few ideas to work with.
If you use a pseudonym, why?  What are the pros and cons of using a pen name?
A: No, I don't use a different pen name because I feel it's important to have my name recognized as my particular brand of science fiction. I would use a pen name if I started writing in a different genre, but science fiction is what I love to write, so I doubt I would ever have one.
What is your biggest writing challenge?
A: Writing a story that is not similar to any other stories. It's difficult to come up with original ideas.
Are you easily distracted when trying to write?  Or are you very focused?  If you are easily distracted, what are some of the things that distract you?
A: Once I get into working on a story, the rest of the world just disappears around me. That is until my cat jumps up on my writing desk, demanding my attention.
Did you study any other authors before you embarked on your first novel?
A: I was fortunate to have a famous horror writer named Hugh B. Cave as a mentor when I started my first book, Dead Energy. He passed away before I finished it, and I used his last name for my main character, Alex Cave.
Who influences you now?
A: I belong to several author groups on the web, and we share our opinions and thoughts about writing and the various aspects of being an Indie Author.
What is your favorite genre to read?
A: Action adventure fiction.
Do you have any favorite authors?  What is it about their writing that really grabs you and pulls you in?
A: When I used to read a lot, my favorite author was Clive Cussler. I loved the Dirk Pitt stories. The action was non-stop and I liked Dirk's attitude toward his nemeses.
What do you love about writing?
A: It's my escape from reality, and knowing that people enjoy my stories.
What do you hate about writing?
A: Not a thing. I totally enjoy it. For me, it's the best hobby in the world.
Do you have a good support network around you?  Do you find that people understand how writers work?  Or do you encounter people who just don't get it, the process we go through, the way we see the world, the way we think, the way we need to be inside our heads so much of the time?
A: My few close friends support me, several of whom I met because of my stories, and my family support is great. They understand that I need solitude when I'm working on a new story, which is almost all the time.
What did your family think when you told them that you wanted to write a book?
A: They know I've always been a dreamer, and they thought I was meant to be an artist. They gave me the encouragement I needed when I was working on my first draft of my first story.
Was there anything about the industry that surprised you?
A: Yes. After many fruitless attempts to find an agent,I was among the first Independent Authors back in the late 90's, when self-publishing was just starting and Steven King published chapters you could read on a computer. At that time, Indies were considered third rate, want-to-be authors with little chance of finding success. I was surprised when we became major players in the publishing industry.
What did you most learn about yourself through the writing process?
A: That if I work hard enough and accept the fact that there is always something new to learn, I can write a story that people will enjoy reading. Also, that I needed to accept the idea that being a successful author is a long-term game plan.
Do you have a favorite fan reaction that you can share with us?
A: My favorite reaction? 'Wow. I didn't see that coming.'
How did it affect you when you first began to realize that people responded well to what you present as an author?
A: When they started telling me they liked my first story, it was the encouragement I needed to write another one. I felt that I had to make the next one even better so I wouldn't let them down.
How has being an Independent Author affected you?  Has it been positive?  What are the down-sides of being an Indie Author?
A: It's great. Being an Indie has allowed me to set my own schedule with my own deadlines. Not being under pressure to fulfill a contract gives me the freedom I need to develop an idea. The downside is having to do all my own promoting, which in itself is a huge learning experience. Even traditionally published authors now have to do a lot of their own promoting, so why should I settle for a 10% royalty instead of 70% if I still have to do all the legwork? Plus, my books will never be put on a backlist.
Where do you think publishing is going? Some have predicted that readers are waning and that in years to come, few people will read anymore.  Do you believe that?
A: Perhaps to a certain extent, but I think there will always be plenty of people who don't want to spend all their time in front of a television screen. Movies and games don't allow a person to use their own imagination to fill in the details as they can by immersing themselves into a good story. Even if the ratio of readers drops to say, only 1 out of every 100 people will read a book, the world's population is increasing by thousands every day, so I think there will always be plenty of new readers looking for good stories.
How do you think technology is affecting writers?  Both good and bad?
A: The good is that anyone can read a story without carrying around a printed book, and it has allowed us writers to break free from the grip of the big name publishers. The bad? Since anyone can instantly upload a story, there is a lot of garbage out there for readers to wade through before they find something good.
What do you love most in life?
A: Freedom.
What is the best advice you would give a new author?
A: Edit, then edit again. Find people who will read your first and second drafts and give you honest opinions. Helpful criticism is your best friend. There are a lot of writers in the world, so always keep in mind that to get noticed from the rest of the crowd you need to do two things. Write a great story, and then write many more. Keep in mind that this is a long-term investment of your effort and it takes time to get the recognition we all desire.
What advice would you give an author about negative reviews?
A: At least one negative review is an eventuality that most writers need to deal with. If they offer good advice, use it to fix the issue. If the majority of the reviews are bad and saying the same things, you should rethink your story. No one can please everyone all the time, so don't let them get you down.Just use what you can to your advantage and try to forget about the bad ones.
Is there anything more you would like to add?
A: Yes, it's been a pleasure doing this interview with you for BIB. To my fellow writers. If it's what you're passionate about, never give up. Sometimes all you need to do is step back and rethink your story to make it work.