Pen Name: I write under my given name: Jenna Elizabeth Johnson.
Website: http://www.jennaelizabethjohnson.com/
Tell us a little about yourself.

I have a degree in Art with a minor in Celtic Studies and had never even considered writing as a career.  Not until my final year in college rolled around did I realize I had a story in my head that had to be written.  I began seriously writing the summer after I graduated in 2005 and haven't lost my love for this endeavor yet.  Besides writing I enjoy sewing, hiking and camping, Western Martial Arts (the art of longsword fighting) and reading, of course.
How do you feel that your career, educational background and overall life experience contribute to your writing?
I think those things contribute greatly to my writing career.  Authors draw so much inspiration (whether we realize it or not) from our every day experiences that I feel everything that happens to us has the potential to end up in a story in one way or another.  My educational background factors very heavily in my writing.  In both my Oescienne and Otherworld series Celtic myth and legend plays an important part.  If not for my time spent learning about ancient Celtic culture, my books would be very different.  Perhaps I never would have ventured into writing at all.
Where is your favorite place in the world to live and why?
My favorite place to live is my hometown of Arroyo Grande on the Central Coast of California.  This is where I grew up and this area has also played an important role in my books.  My Otherworld series is set here and the geography of my Oescienne series is based upon this area.  I love it because it is home and I am certain there is some ancient magic residing here.
Where is your favorite place in the world to visit?  Why?
I try to make it up to Yosemite National Park as often as I can.  Like the Central Coast where I'm from, there is something magical about Yosemite.  I often tell people I go there to recharge my soul, and I do feel more at peace after visiting the park.  I think it's my connection to and love for nature that makes it such a great place for me.  I also recently visited Ireland (it's been on my list for a while) and now I'm ready to go back to explore the land of the Celts some more.
What is the funniest thing about your personality that fans would love to know?  What are your quirks?
What a fun question!  I don't know if I'm the best person to ask.  I guess the funniest thing about me is that I will go out of my way to rescue spiders and other creepy crawlers that most people shriek and run away from.  I am drawn to the strange in this world and revel in the fact that I'm one of the odd balls.  Having said that, I'm also very self-conscious about things, even when it may appear I'm exuding confidence.  I'll forget people's names and what someone just said to me, but I remember the most minute, insignificant details from something that happened years ago.  I think being a writer requires that you have many quirks and perhaps that's why we creative types always seem so distracted.
What drew you to writing?
 During my final year in college, I sat down one day to look through my sketchbook.  As an art major, we were required to keep one and just sketch whatever we saw or whatever came to mind in there.  As I was flipping through the pictures, it dawned upon me that what I had recorded in the sketchbook was characters, plot ideas and an entire world that was the basis for my Oescienne series.  It suddenly occurred to me then that I had to write this story down or no one would ever get to read it.  I wouldn't say I was drawn to writing, but I had always been a story teller, a daydreamer.  A creative soul.  It just wasn't until that moment I realized I needed to channel that creativity through writing.  And writing is the first thing I've gone after that I haven't yet lost a passion for.
Do you have anything special, a habit, that you do that gets you into the mood of writing?  Favorite object, desk, pen?  Do you listen to music when you write? If so, what do you listen to?
 When I sit down for a writing session I like to start with a good cup of tea.  I prefer the Queen Victoria blend from Cafe Moto, loose leaf with some honey.  Music is also a nice addition and I have a few writing soundtracks that include Celtic and Classical instrumental as well as a few movie soundtracks in the fantasy genre.  When I go out of the house to write, I can be found in a local cafe with my laptop and headphones to help keep me focused.
Do you have a special place you like to go to write?  Do you do a retreat?
This all depends on my mood.  At home I have what I call the Renaissance Room (because I've gathered all my creative arts into this area and it features a flag I sewed to represent my Oescienne series, as well as a banner with the alphabet of the language for that world, among other things).  I used to go into the local Starbucks early every morning when my work schedule was different.  I had a specific table I liked to sit at and if someone managed to beat me there in the morning, I'd have to settle with another option while watching my favorite table out of the corner of my eye with the hopes the other person would leave.  Some of the other regular patrons and the baristas knew about this and it was a running joke between us.
Does your life experience influence your writing?
Absolutely, whether I realize it or not.  Some events that take place in my books are based on true to life incidents.  Sometimes I'll see or experience something that will later turn up in my writing.  I feel that authors and writers rely on everything that we observe or experience to help create the fabric of our books.  These situations and real life experiences may not be strong or significant enough to create a plot twist, but they do help move the story along and give it a realistic structure, even if it's in the fantasy genre.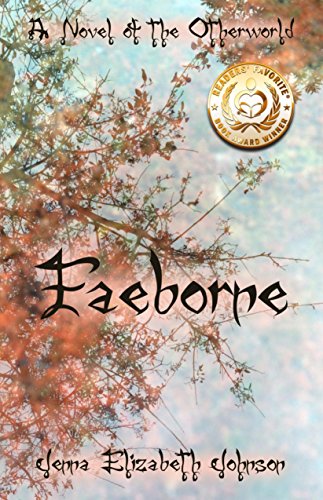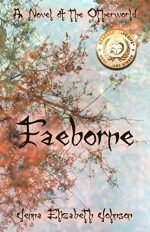 What was the inspiration for your book Faeborne?
Faeborne started as a NaNoWriMo (short for National Novel Writing Month) story project.  I had an idea to write a story about a shapeshifter woman who could transform into a deer.  As the story progresses, three main characters emerge.  There is Seren, my shapeshifter who is fleeing a dangerous home environment, Brennon, a man from the Otherworld who is still very haunted from the time he spent as a soldier for the Morrigan (the Celtic war goddess), and Brennon's nephew, Rori, a young boy blinded when his parents and grandparents were killed in a raid upon their farm.  All three characters are haunted by the demons of their past but they all still have a great capacity to love.  As I bring them together, they learn how to heal one another.  I enjoyed writing Faeborne because it allowed me to explore some of the deeper emotions of my characters while showcasing a world rich in Celtic myth and lore.
If you use a pseudonym, why?  What are the pros and cons of using a pen name?
I currently use my given name for my books, but someday I would like to try getting future books/series published traditionally.  If I succeed in that particular endeavor, I might like to try out a pseudonym.  I think keeping my independent books and traditionally published books separate by using different names would help keep the business end of writing organized and keep my brands separate as well.
What is your biggest writing challenge?
My biggest writing challenge is defeating procrastination and making sure all the details are as accurate as I can get them.  Even when I've got a great story idea in my head I can find it difficult to just sit down and write it.  I think procrastination is a natural part of the creative process and it isn't something we creative types can control, but it is annoying and I wish I had more power over it.
Are you easily distracted when trying to write?  Or are you very focused?  If you are easily distracted, what are some of the things that distract you?
I am very easily distracted, much of the time, but it all depends on what mood I'm in.  If I'm in a writing mood, I can type away with utter chaos descending around me.  If I'm having trouble focusing, any little thing will distract me and pull me away from the keyboard.  Having said that, I do go on writing rampages where I get lost in the story and if anyone interrupts me they had better have a darn good reason to do so.  Nothing short of the house burning down or someone needing a ride to the emergency room will suffice.
Did you study any other authors before you embarked on your first novel?
I wouldn't say I study other authors, but I do go through periods of reading when I'm having trouble writing, or when the story just isn't flowing.  It's a good way not only to gather inspiration but also to give the creative part of my brain a break from work.
Who influences you now?
Right now I'd have to go with Ilona Andrews and Sarah J Maas.  Ilona Andrews is a huge favorite of mine and I love everything they create (they are a husband wife team).  Sarah J Maas has also caught my attention with her Court of Thorns and Roses series.  I think Court of Thorns and Roses has stuck with me because this particular series focuses partially on the fae (a genre very similar to my Otherworld series).
What is your favorite genre to read?
I love to read my own genre, especially urban, epic or general fantasy with a bit of adventure, romance and mystery.  I believe a good story has all these elements as well as complex worlds and great characters.  When an author can make me care about all the characters and when I can't wait to delve into the world they've created, they have done a splendid job in their own writing.
Do you have any favorite authors?  What is it about their writing that really grabs you and pulls you in?
Oh yes.  Ilona Andrews, Sharon Shinn, Maria V. Snyder, Sherwood Smith, Karen Marie Moning, J.K. Rowling and Lindsay Buroker and Rachel Morgan (fellow indie author pals) to name a few.  I love the worlds and characters they have created and I have learned to expect nothing but good things from their books.  Some of these authors I've only liked one or two of their books but they have stuck with me.  With regards to Ilona Andrews, I have loved everything they've written (and I've read just about everything they have released).
What do you love about writing?
I love the discovery of new worlds, characters and stories.  And I love that I am able to pull these stories out of the ether and bring them to life for my readers.  I love the feeling of finishing a new book and receiving feedback from my readers.  I love world building and map making and character developing and getting the details just right.
What do you hate about writing?
 I hate that it takes so long for me to get a story completely ready for my readers.  As a reader myself, I know how frustrating it can be to wait for the next book in a series and I wish I could somehow speed up the process without taking away the important details.  I also dislike the self-editing process sometimes.  I know writers are supposed to love every aspect of building a story, but once I'm done I'm ready for a break or ready to move onto the next project.
Do you have a good support network around you?  Do you find that people understand how writers work?  Or do you encounter people who just don't get it, the process we go through, the way we see the world, the way we think, the way we need to be inside our heads so much of the time?
I've encountered both.  My family is very supportive, but there are times I know they don't entirely get it.  Same with friends.  But I have nothing bad to say about them because they never fail to encourage me and always ask how things are going with my writing.  I believe that there are many things in life that people will not fully understand because they haven't experienced it and being an author is no exception.  It doesn't mean people are being callous or looking down upon my chosen profession, it just means they don't see it the same way I do.  When I was still in college taking my art classes, I remember someone pointing out a Pollock painting and proclaiming they could do the same.  Dripping paint on a canvas?  What's so hard about that?  My first response was anger and disgruntlement, but then I would tell them it isn't about the final product but the process.  In a world focused on the merit of final products and not the transformation one experiences during the process, it is hard to get some people to understand the value in such works.  I just like to remind myself of this when I encounter negative attitudes about writing and especially independent publishing.  The only thing I can do is write the best book I can and let my readers decide if it is worthy or not.
What did your family think when you told them that you wanted to write a book?
When I first started working on my very first book, I was terrified to tell my family.  I holed myself up in my room and only when I was fifty pages in did I finally come clean.  For some reason I was really nervous about telling them.  Maybe I thought they wouldn't take me seriously, or that they would laugh at me or tell me I should be doing something more constructive with my time.  Everyone wants to write a book, right?  Their reaction was actually kind of great.  All they said was, "Oh, that's nice," as if I had just told them I was making a sandwich for lunch.  I think it helped ease my nerves and I was able to continue with my new and terrifying endeavor.
Was there anything about the industry that surprised you?
I tried to get my first book published traditionally but gave up after only ten rejection letters.  I had read somewhere that several well-known authors had spent years send letters back and forth to agents and publishers. I didn't want to wait that long for my book to get into the hands of potential readers.  I admit I was far too optimistic when I first published.  I had hoped for good sales and rave reviews, but I soon learned the industry didn't work that way.  I wasn't surprised, just frustrated, but I fixed my mistakes and kept at it.
What did you most learn about yourself through the writing process?
Writing, and the writing process itself, really encourages me to delve deep to draw out both raw emotions and thoughts about the world.  Even when writing young adult fantasy romance, I have found myself discovering aspects of life I'd never truly considered before.  When you must really get into a character's head, you find yourself looking at the world through different eyes.  The most important thing this has done for me is to teach me that life is an ever-changing process and that there is always the potential for new self-discovery, no matter how old you are.
Do you have a favorite fan reaction that you can share with us?
My favorite reaction by far was when one of my readers took the inscription I had written in her copy of one of my books and had it turned into a tattoo.  Not only did she get this tattoo but she had the tattoo artist copy it in my handwriting.  I don't know what can beat that.
How did it affect you when you first began to realize that people responded well to what you present as an author?
I had trouble believing that readers actually enjoyed what I put out there.  After struggling to reach an audience with my first series for years, the reaction I received for my second series was overwhelming.  I was thrilled that people were reading and enjoying my books and for a long time it didn't seem real to me.  Even now I'll read reviews or receive emails or meet readers in person and I can't believe that yes, it is my writing they are talking about.  It is the most flattering thing in the world to know that my stories have affected people in such a way.
How has being an Independent Author affected you?  Has it been positive?  What are the down-sides of being an Indie Author?
Being an Independent Author has had its pros and cons.  I love having complete control of my story and the process of turning it into a paperback or ebook.  For the most part it has been positive, especially knowing that I've been able to reach such a wide audience without the help of big name publishers and marketing campaigns.  Of course, that is also part of the down-side.  It is very difficult to get seen and heard when funds are limited.  I have done well for an Indie Author, but I always wonder if I'd be reaching even more readers if I had a big publisher behind me.
Where do you think publishing is going?  Some have predicted that readers are waning and that in years to come, few people will read anymore.  Do you believe that?
I've heard from some people that publishing will eventually evolve into something along the lines of Netflix – where readers subscribe to authors' newsletters and get their books that way.  I don't pay attention to the publishing world as much as I should, but I do read the occasional article and catch wind of changes in policies that directly affect indie authors.  Some of this news worries me, but I always go back to why I started on this journey to begin with: to tell my story.  The market changes and the ways in which books are delivered changes as well.  I don't believe fewer people will read as the years pass because the human spirit needs stories in order to thrive.  Perhaps they will get those stories through TV shows or movies or video games or live theater or (in my case most of the time) audiobooks, but we'll still need the writers to weave the right words together to bring those stories to life.  Every time I take part in a book or author event, I have readers visit my booth or table and they tell me they have young relatives – children, grandchildren, nieces, nephews, cousins – who are avaricious readers and that they are actively encouraging these children to read.  This gives me hope for the future, that perhaps more people will turn to reading.  Our world is going through some difficult times and I believe that stories where good is able to overcome evil play an important part in giving us hope.
How do you think technology is affecting writers?  Both good and bad?
Technology has been almost entirely positive for me.  If not for the boom in the ebook and indie book industry, I might not be where I am now.  Kindle Direct Publishing, iTunes, Kobo, Smashwords, Google Books and Draft2Digital (to name a few), have given authors like me a chance to work toward a career as a serious writer.  If not for this new and ever-changing industry, I might still be struggling to get my first book published.  I now have fifteen works available for readers.  The down-side of this is that the competition is now very fierce.  Thousands upon thousands of new authors are getting published every day, so although I applaud them and am thrilled that so many authors are realizing their dreams, it makes it a little harder for my books to be seen.  If I want to stay afloat, I'm going to have to seek out new marketing ideas or invest heavily in a campaign that works.  Right now, I'm comfortable with my current plans, but soon I'll have to consider trying something new.
What do you love most in life?
I love the moments of beauty, the ones that don't have to be big events.  The sound and scent of rain, something that makes me laugh, goldfinches gathering at the bird feeder.  I love the times when I finally figure out a plot knot or a new story idea bursts forth in my mind.  Those are the things worth living for.  Discovery, creation, joy.
What is the best advice you would give a new author?
Put your nose to the grindstone, ignore all the negative talk you hear about writers and the art of writing, and whatever you do, don't give up.  Don't focus on the end results, but the journey; the process of pouring your story forth.  You can think of the future and plan out where you want your story to take you, but don't focus too much on it.  Allow yourself breaks and don't feel bad if you put your story aside for a week, a month, a year.  The first book is always the hardest one to write because it is the time spent learning the craft.  Reach out to fellow writers and listen to their advice (you don't have to follow it).  If you have a love for the written word and the art of story-telling, then you will find your way.
What advice would you give an author about negative reviews?
I often tell people that one of the best ways to deal with negative reviews is to look up your absolute favorite author or book and to read some of their negative reviews.  It helps put things into perspective and it reminds us that a negative review is just an opinion.
If you could, what would you do to change the world?
I would make it so that people were more tolerant of one another and that hatred was an emotion only imagined and not felt or acted upon.  I know that seems impossible, but maybe if people were a little more tolerant of one another, or a little more willing to appreciate the differences in all of us, so much sorrow and  heartbreak could be avoided.
Is there anything more you would like to add?
Just that if people would like to check out my books, they can download the first book in each of my series (Faelorehn and The Legend of Oescienne – The Finding) for free where ebooks are sold (Amazon, Barnes and Noble, iTunes, Google Books, Smashwords etc.).
I also want to extend my gratitude to Best Indie Book Awards for this wonderful interview.  I hope my answers and insight will help other aspiring authors reach their potential and maybe even provide a better insight to who I am as an author for my readers.  As always, happy reading!