Pen Name: Martin Roy Hill
Website: http://www.martinroyhill.com
Tell us a little about yourself.

I was born and reared in Southern California, in the Los Angeles County beach community of Redondo Beach. I attended Redondo Union High School which has, among its illustrious alumni, Charles Lindbergh, the Smother Brothers, Squeaky Fromm from the Charles Manson cult, and Tracy Lords, the underaged porn queen. That's something, eh?
In college, I studied journalism and afterward embarked on a journalism career during which I worked as a newspaper crime reporter, a national award-winning investigative journalist, and a freelance correspondent for LIFE Magazine and Newsweek, and finally as editor of a business newspaper. After twenty-some years of that, I grew tired of journalism and left it for a position as an analyst in combat medical operations for the U.S. Navy. I've been doing that since 2003.
Besides my journalism career, I also spent 27 years in three branches of the military reserves. I did search and rescue. medical response, and maritime law enforcement in U.S. Coast Guard Reserve for 13 years broken service, and counter-insurgency warfare in the Naval Reserve for three years in between my two tours in the Coast Guard. This was followed by 11 years in a component of the California National Guard, where I served first as a medical service corps officer, then as a military policeman. I just retired a few months ago an executive officer of a state MP unit with the rank of major.
I've also been a member of a federal Disaster Medical Assistance Team and a local count disaster response team, as well as a reserve sergeant and medical specialist with the local sheriff's Search and Rescue Detail. All of this, of course, was part time.
How do you feel that your career, educational background and overall life experience contribute to your writing?
It's had a great impact. In my Peter Brandt thrillers, Peter is a journalist who's been physically and emotionally scarred from his experience as a war correspondent. As with most of my books, the mysteries Peter gets involved in are wrapped around real-world events, many of which I had some hand in covering as a journalist.
My military experience also provided inspiration for my books DUTY, The Killing Depths, and Eden, as well as my newest novel The Butcher's Bill, due out in early 2017. My current work in progress is about a specialized Coast Guard unit investigating a mishap in the Arctic Ocean.
Where is your favorite place in the world to live and why?
I grew up around the ocean in Southern California, and currently live in San Diego not far from the sea. I've traveled through most of the country and I've never wanted to live anywhere else.
Unfortunately, the weather in Southern California is changing rapidly due to climate change. The Pacific Conveyor current that brings cold Arctic water down our coast and moderates the weather here is slowing and warming due to the polar melt. We've always had the threat of earthquakes, but now we must deal with drought and, ironically, floods, devastating wildfires, tornadoes and, soon, probably hurricanes. Obviously, this message wasn't paid for by the California Tourism Board.
Where is your favorite place in the world to visit?  Why?
I enjoyed y stay in London very much. It is so steeped in history. You can walk anywhere and stumble onto some historic site. I remember walking down the street and spotting a plaque on a door that said Captain William Bligh, of Mutiny on the Bounty fame, once lived there.
What is the funniest thing about your personality that fans would love to know?  What are your quirks?
It's not a quirk, but I am a dedicated animal hugger. I love animals, especially cats. I've had cats all my life, as has my wife, Winke. But it's not just cats. I love all animals—cats, dogs, birds, snakes.
We have one cat, Harry, now. Harry's brother, Alex, died a little more than a year ago. We also provide food for two neighborhood cats, one who was abandoned and is fearful of humans, and one who is left outside most of the day and night by his family. We also provide food for raccoons who come by, and have helped raise at least four generations of what we call "rockies." And there are also possums, skunks, squirrels, and what not, as well as ravens, hawks, and owls. In my family, we refer to ourselves as Critter Services, Industries.
What drew you to writing?
I was always an active reader. When I was in high school, I took an English course where we could read whatever we wantedas long as we wrote critiqued what we read. My teacher liked my critiques, guided me to more literary reading, and suggested I think about writing as a career. I started journalism classes in high school and then majored in journalism in college, all the time writing both nonfiction and short stories and submitting them for publication. The first piece I ever sold was to the Reader's Digest section called Humor in Uniform. It was a piece about my brother-in-law in Vietnam. Ironically, it was published when I going through boot camp myself. My parents sent me a letter telling me about it being accepted, and I was sort of celebrating the fact when our drill instructor walked into the barracks. He demanded to know what I was so happy about and I told him. His response was something like, "Hill, you are a joke in uniform." He was my first critic.
Do you have anything special, a habit, that you do that gets you into the mood of writing?  Favorite object, desk, pen?  Do you listen to music when you write?  If so, what do you listen to?
I do most of my writing on my Kindle Fire tablet. I carry it and a Bluetooth keyboard in my ruck, and whenever I get a chance I pull them out and write. I also use my iPhone to do a lot of writing. I have several writing apps on my phone which allow me to write or work on plotting wherever I am. I often use it while waiting for meetings to start. I've written a couple of short stories that way.
Do you have a special place you like to go to write?  Do you do a retreat?
I like to write in coffee shops, usually sitting outdoors. Other than that, I usually write while sitting on the couch with my laptop computer. I've never done a writer's retreat. Haven't had the time.
Does your life experience influence your writing?
Definitely. As I said earlier, my military experience largely influences my writing. My tenure as editor of a business newspaper also convinced me there's a great deal of greed and corruption in business, especially in large corporations. Not surprisingly, some of my plots revolve around corrupt business people.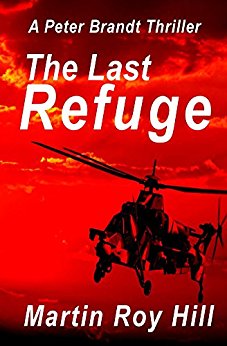 What was the inspiration for your book, The Last Refuge?
The Last Refuge is the second in my mystery thriller series featuring Peter Brandt. It takes place two years after the first Iraq war, Operation Desert Storm, and involves a deadly cover up. Shortly before that war, I was one of the first American journalists to write in depth about Hussein's weapons program, and during Desert Storm I was frequently interviewed on radio programs about it. I had written a major magazine piece about Hussein's attempt to smuggle nuclear bomb detonators from San Diego to Baghdad, and how the White House was turning a blind eye to it. Many believe the failure of the White House to react to this smuggling attempt led Hussein to believe he could invade Kuwait without punishment which, of course, resulted in the war.
During the war, as our troops were still engaged in combat with Iraqi troops, there were news reports that American and European corporations were secretly conducting backdoor negotiations with Hussein about rebuilding his military once hostilities ceased. To me, that was an act of treason.
Those two events provided the genesis of the plot for The Last Refuge.
The title comes from Samuel Johnson's criticism of his fellow British politicians who used patriotic rhetoric to hide their corruption: "Patriotism is the last refuge of a scoundrel."
If you use a pseudonym, why?  What are the pros and cons of using a pen name?
It's not a pseudonym, but I use my full name, Martin Roy Hill, because there are several other writers with the name Martin Hill and I didn't want readers to get confused about who was who. In retrospect, I wish I'd followed H.G. Wells' example and used M.R. Hill as a pen name instead. Ah, well….
What is your biggest writing challenge?
Finding the time to write. I work longer work days in my Navy job so I can get every other Friday off. That's a great deal, but it leaves little time to write most days. Plus, as an indie author a lot of my time is spent on marketing and publicity, rather than writing. That's why I carry my Kindle Fire everywhere.
Are you easily distracted when trying to write?  Or are you very focused?  If you are easily distracted, what are some of the things that distract you?
I tend to be very focused when I write. As I mentioned earlier,I often write in public places like coffee shops and such. The hubbub doesn't bother me. As a newspaper reporter, I got use to writing in newsrooms full of noises—people talking on the phone, teletype machines clattering, police radios screeching, and so on. You just learn to block it all out and write.
Did you study any other authors before you embarked on your first novel?
I studied literature in college. I had a great but very tough literature professor. He was extremely demanding and by the end of the class, the number of student had dwindled from about 30 to just seven. But I learned a lot about literature and writing in that class.
The writers who had the most impact on me early in my life were the Lost Generation writers—Hemingway, Dos Passos, Remarque. But I've also read a great deal of—and been influenced by—writers like Ian Fleming, Alistair MacLean, and Raymond Chandler. I also enjoyed H.G. Wells, and still read his books to this day.
Who influences you now?
Difficult to say. I read many different authors and I think I take something away from each good book I read. Writers must be critical readers. We don't just read for pleasure or escape, we read to learn more about writing. We study how other writers develop their plots, their writing styles, and such. Then maybe we experiment with what we've learned.
What is your favorite genre to read?
Mysteries, thrillers, and science fiction are my favorite. That's what I write, and you should always read the genre you write.
Do you have any favorite authors?  What is it about their writing that really grabs you and pulls you in?
There are quite a few authors whose work I turn to again and again. David Morrell, James Rollins, Bob Mayer, to mention a few. I appreciate the research and detail they each put into their stories, particularly the historic background their plots have.
What do you love about writing?
It's meditative. I'm very focused as I write and after a good round of writing, I feel calm and refreshed. It allows me to go beyond the everyday humdrum.
What do you hate about writing?
Not having enough time to write more. And the pay sucks.
Do you have a good support network around you?  Do you find that people understand how writers work?  Or do you encounter people who just don't get it, the process we go through, the way we see the world, the way we think, the way we need to be inside our heads so much of the time?
I have a small group of local writers I meet with regularly for lunch. We sit around and talk shop, offer advice, and so on. I am also a member of the local chapter of Sisters in Crime, and they're very good at supporting their members.
I also have a group of writers around the world that I deal with regularly via email and social media. We support each other with advice, advance readings, etc. But my closest support group is my wife and son, who are very supportive of my endeavors.
What did your family think when you told them that you wanted to write a book?
Well, I started writing while I was still in high school. My parents were very supportive of my desire to write. They're both gone now. I dedicated my first book, DUTY, to them.
As I mentioned, my wife, Winke, has always been supportive of my writing. In fact, she's my editor. We both come from a publishing background. That's how we met. Her step-father, Edwin Self, was a magazine publisher and founder of the city magazine genre. Her birth father, Robert Wade, was a very successful post-WWII novelist of mysteries which he wrote under the pen names of Wade Miller, Whit Masterson, and a few others. If you've ever seen Orson Wells' film noir classic, Touch of Evil, that was one of Bob's books. Several of his books were made into movies. Bob helped me on my first Peter Brandt novel, Empty Places, and taught me some very good lessons about novel writing. Unfortunately, he passed before Empty Places was published. I dedicated that book to him.
Was there anything about the industry that surprised you?
I was surprised by the rapid growth of independent publishing. Even best-selling, traditionally-published authors are getting into indie publishing, and buying back their back-listed titles and republishing them independently.
What did you most learn about yourself through the writing process?
I think I learned how persistent I can be about writing. In the 1990s, I was trying to get my first books published traditionally. After the 9/11 attacks, I was on active duty with the Coast Guard and didn't have time to write. After I got off active duty, I decided to leave journalism. I went to work for the Navy in November 2003, shortly before we invaded Iraq. For nearly ten years, our op tempo was so heavy I didn't have time to write. When the war started to draw down, I had time to write again and I fell right back into it. As I started writing again, I learned about independent publishing and, since I had a publishing background, decided publish my book myself. And I've been at it ever since.
Do you have a favorite fan reaction that you can share with us?
I have a couple. Shortly after my first full novel, The Killing Depths, came out, my son, Brandon, sent me a text saying he was on the bus heading for class and the person sitting across from him was reading my book. I think that was the first time I realized I had readers!
One incident that dumbfounded me concerned The Last Refuge. I got a call from Seamus Gallagher, a very successful indie thriller writer from Scotland who lives in Bahrain. He called me from the Middle East just to tell me how much he enjoyed reading The Last Refuge. That just gob-smacked me.
How did it affect you when you first began to realize that people responded well to what you present as an author?
It's been very humbling. When you write something, and put it out there for people to read, it's very frightening. It's like opening yourself up and letting to world see what's inside you. When you realize people are enjoying your creation, it's very humbling.
How has being an Independent Author affected you?  Has it been positive?  What are the down-sides of being an Indie Author?
The nice thing about being independent is the freedom it gives you to try new things. Many writers are stuck writing one genre or one series by contractual agreements. Indies can move more freely and respond to the interest of readers more easily.
On the other hand, as an indie you are more than a writer. You're a writer, editor, publisher, and marketer. I would estimate I spend about 40 percent of my time writing, and the rest producing and marketing, including writing press releases and buying advertising. You're essentially a business. I have a business license for M.R. Hill Publishing and now a publishing imprint called 32-32 North. The name refers to the West Coast maritime boundary between the U.S. and Mexico where I spent a lot of time in the Coast Guard on anti-smuggling ops.
Where do you think publishing is going?  Some have predicted that readers are waning and that in years to come, few people will read anymore.  Do you believe that?
I think book publishing is going the way movie and music production went a few decades ago. The advent of digital technology made movie production much cheaper and led to independent film makers. The same happened in the music industry. Now it's happening in the book publishing industry. Just as in those other two industries, I think good book producers will float to the top and the bad producers will sink to the bottom.
On the other hand, you can't deny the indie revolution is flooding the book market. Unfortunately, the number of readers isn't keeping pace. Readership growth is, at best, stagnant. Plus, the Big 5 publishers are fighting indie writers by lowering the prices of their e-books to match those indies usually charge. You know the competition for readers is tough when the e-books of major brand authors are selling for .99 cents.
How do you think technology is affecting writers?  Both good and bad?
Well, technology makes independent publishing possible. That's good. And computers make the physical act of writing easier. With typewriters, we had to retype the entire manuscript each time we did a rewrite. Now we edit on screen. That's good, too. The internet makes research a lot easier, too. And that's good.
On the other hand, technology can also make some writers lazy. They rely too heavily on spell check, for instance, without realizing spell check is very limited in what it can do, especially in its default condition. It can give them a false sense of the quality of their work. In Word, for instance, you need to tweak the settings for spell and grammar checking to make it work for you. But even then, it doesn't take the place of a good editor and proof reader.
What do you love most in life?
Besides writing? As I said earlier, I love animals. There is nothing more rewarding than developing a loving, trusting relation with someone of another species. Nothing gives me greater pleasure than furry and feathery creatures, even snakes. But cats—they're something special. The Egyptians thought so, and they were correct.
What is the best advice you would give a new author?
Rewrite, rewrite, rewrite. The art is not in the writing, but the rewriting. And never consider yourself an artiste who can only write under certain circumstances or when the mood hits you.  Writing is all about self-discipline. I recently read an old essay by Alistair MacLean in which he described his workday as starting a six in the morning and ending sometime in the evening. Hemingway said. "There is nothing to writing. All you do is sit down at a typewriter and bleed."
What advice would you give an author about negative reviews?
Live with them. They are part of the game. Learn from them if you can. If you get too many, maybe there's a reason for that.
If you could, what would you do to change the world?
End stupidity, greed, and meaningless fear. So many ills in this world are result of stupidity, greed, and fear. Racism, fascism—all those evil little 'isms.
Is there anything more you would like to add?
Just to thank you for this honor and this opportunity to connect with readers.