Pen Name: Tabetha Waite
Website: http://authortabethawaite.wix.com/romance
Tell us a little about yourself: 
Of course, I love to read! Otherwise, I'm usually checking out any flea market or antique mall I can find. I am such a scavenger and I'm always on the hunt for a good deal, or something unique. I've been a doll collector for a number of years, but when I was younger, one of my favorite things to do was roller-skate, a sport I mention in my debut novel. I still tie on a pair of quads, but I'm a lot more careful these days.
How do you feel that your career, educational background and overall life experience contribute to your writing?
My day job is working as a lunch lady in the local community college cafeteria, so not a lot of inspiration there! Otherwise, I guess just being taught to have an imagination helped. When I was little, my uncle would babysit me and sometimes we'd watch a TV show and turn the volume down in order to make the characters say wherever we wanted them to. It was fun, but at the same time, I think I still keep that practice in the back of my mind when writing dialogue.
Where is your favorite place in the world to live and why?
I have always lived in Missouri, so I can't really compare it to anywhere else, but I thought Washington State was beautiful.
Where is your favorite place in the world to visit?  Why?
Other than the continental United States, the only other place I've been is the Bahamas, but it was wonderful! I could certainly stay on those beaches for days! Of course, I would love to visit Europe someday.
What is the funniest thing about your personality that fans would love to know?  What are your quirks?
Really, just being goofy is my quirk. I love to laugh and to make others laugh. I hope that some of that desire comes out in my books, because I strive to be entertaining!
What drew you to writing?
That honor will always go to my fourth grade teacher, Mrs. Judy Bailey. I was shy in school because I got bullied, so I never was quite sure what to do with myself. I wrote a lot of stories in her class and she always complimented me on them. She gave me something to believe in and I kept that dream alive for 30 years.
Do you have anything special, a habit, that you do that gets you into the mood of writing?  Favorite object, desk, pen?  Do you listen to music when you write?  If so, what do you listen to?
Music ALWAYS inspires me to write. In fact I CAN'T write, or read, without my reading playlist! As far as artists, I listen to everything from easy listening to the 80s I grew up on. It really doesn't matter what the song is, but the story I'm writing. Like watching a movie, it helps to set up the scene at that particular moment.
Do you have a special place you like to go to write?  Do you do a retreat?
My living room couch is my preferred "go to" spot, but if my girls are home, I go into the bedroom and write at my desk. I think if I went to Starbucks, I would do more people watching than work.
Does your life experience influence your writing?
I think everyone could say that something in his or her life inspired a story. As for me, I definitely draw on emotion. My favorite is the initial attraction between my main characters. It's why I love romance. That feeling of excitement when you meet someone is unmatched.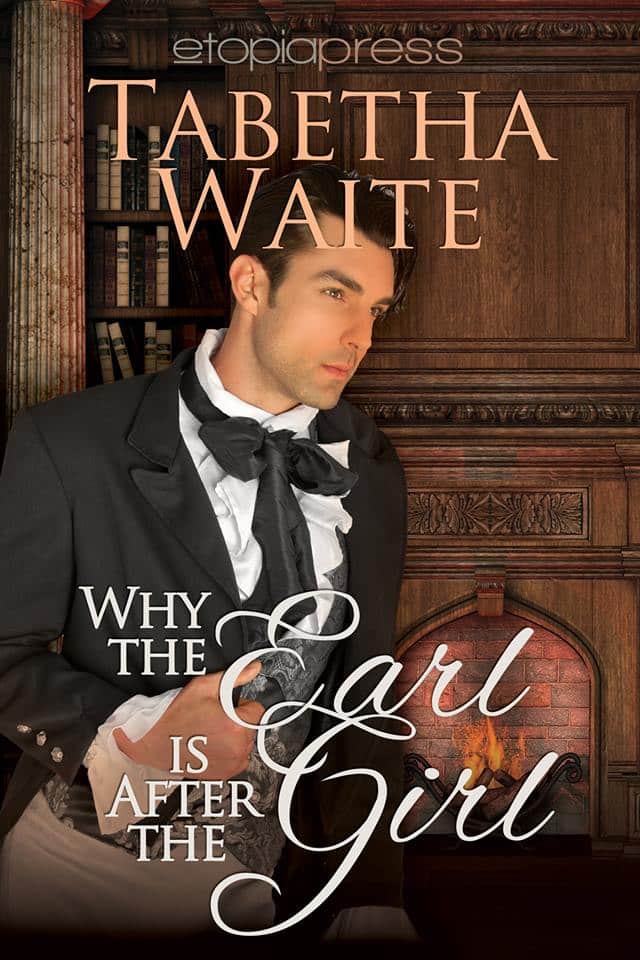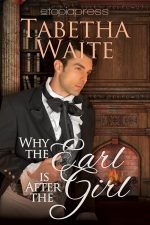 What was the inspiration for your book "Why the Earl is After the Girl"?
That story came from a laptop crashing! To make matters worse, I didn't have a backup and there were quite a few stories I'd started that I'd intended to go back and pick up. When I thought of all the hours I spent typing that were wasted, I felt almost physically sick. That's what got me thinking – how would someone like me feel in a similar situation? Thus, Athena and her stolen inheritance was born. As for all the twists and turns, that was just me "thinking outside the norm." I'd read so many romance novels that had the similar storylines, that I took a leap of faith and went a different route. Besides, what's the good of having an imagination if you can't push the limits, even in historicals?
If you use a pseudonym, why?  What are the pros and cons of using a pen name?
I use my real name. I thought about a pen name, and I might reconsider one sometime down the road if I decide to pursue a genre other than romance, just to differentiate the two, but my childhood goal was to see MY name in print.
What is your biggest writing challenge?
Edits and research – hands down! There are so many anachronisms that you need to avoid when writing an historical and sometimes, my "Americanisms" show! Other than that, there are differing opinions on what was acceptable and what wasn't during a certain time period, so it can be a challenge when trying to figure out how to develop a scene properly. And I don't know a single writer that loves edits! At times I've had to rewrite an entire section, but the end result is worth it to see that cover and know your story is alive!
Are you easily distracted when trying to write?  Or are you very focused?  If you are easily distracted, what are some of the things that distract you?
I can stay focused, as long as someone doesn't ask me questions! Most of the time my family is good about leaving me alone when I'm "in the zone."
Did you study any other authors before you embarked on your first novel?
I didn't really study any other authors, per se, but there were several that I highly admired for their writing skill. Sabrina Jeffries, Victoria Alexander, Lisa Kleypas, Andrea Kane, are just some of the few that have written numerous novels that are on my keeper shelves.
Who influences you now?
The same ladies, plus a lot more! There are so many talented authors out there and I feel truly honored to be a part of the writing community.
What is your favorite genre to read?
Romance! I prefer the historicals, but I will read paranormals too. Contemporary hasn't really grabbed me and held on yet, but as long as there's a love story present, I'll probably give most anything a try.
Do you have any favorite authors?  What is it about their writing that really grabs you and pulls you in?
One of my favorite authors is J.R. Ward. Her Black Dagger Brotherhood series is riveting and hooked me from the first book. I would love to meet her someday!
What do you love about writing?
I love being able to escape to another time, another world, wherever my imagination takes me. I enjoy the glamour of the English aristocracy, the expensive, tailored clothes and elegant parties. It makes me wish I could travel back in time.
What do you hate about writing?
I really don't dislike anything. I'm one of those people who can spend hours typing and easily ignore housework!
Do you have a good support network around you?  Do you find that people understand how writers work?  Or do you encounter people who just don't get it, the process we go through, the way we see the world, the way we think, the way we need to be inside our heads so much of the time?
I have an amazing support network. When I was little, my grandma used to listen to my latest book with extreme patience. Now, my husband and two daughters are my best cheerleaders! I do find that when people ask me how to get published, I'm not really sure how to answer. For me it was a lot of research and a lot of rejections. It took years of trying before I was finally offered a contract. As far as being inside of our heads, I think most writers can say it's best no one is!
What did your family think when you told them that you wanted to write a book?
They've always been very supportive and never tried to dissuade me. They said if that's what I wanted to do then go for it!
Was there anything about the industry that surprised you?
Marketing is nearly more difficult than getting published. Any new author has a lot of work ahead of them when it comes to getting noticed because there is so much competition. It's a tough business, so you really have to write for yourself and the enjoyment of it.
What did you most learn about yourself through the writing process?
That I'm more patient than I realize!
Do you have a favorite fan reaction that you can share with us?
I don't know that I have any certain reaction that stands out. I appreciate any review, comment or message from a reader. If they are critical, then I use that as a steppingstone to improve. If not, I'm glad they enjoyed the book and took the time to read a "newbie."
How did it affect you when you first began to realize that people responded well to what you present as an author?
I'm in a dreamland most days. When someone compliments the fact that I'm an author, it still feels like someone needs to pinch me! And when they say they're going to tell people that they know someone "famous," I just have to giggle. Even if I ever come close to the popularity of some well-known authors, you'll find that I'm pretty grounded and I don't really crave the attention. I just like to write, plain and simple.
How has being an Independent Author affected you?  Has it been positive?  What are the down-sides of being an Indie Author?
I'm published through a smaller press, so you definitely don't get the exposure and representation as you do with one of the "Big 5." Not having your book easily accessible is definitely a downside, especially for the people who don't really like to shop online.
Where do you think publishing is going?  Some have predicted that readers are waning and that in years to come, few people will read anymore.  Do you believe that?
I don't think so. There's always going to be new talent and new authors that put their own spin and personality into a story. And I firmly believe that romance, like true love, will withstand the test of time.
How do you think technology is affecting writers?  Both good and bad?
I'm going to say good for the most part. I think e-books have been a blessing for those who are looking for a cheaper way to support their voracious reading habit, while it doesn't take up too much space. As far as exposure, social media is a wonderful outlet, for it allows you to make new friends. I have met some amazing people this way and most are happy to spread the word!
What do you love most in life?
My family – my husband and daughters have given me so much happiness.
What is the best advice you would give a new author?
Don't give up! And never take "no" for an answer. If writing is something you want to do, don't let anyone stop you.
What advice would you give an author about negative reviews?
Don't beat yourself up. What one person doesn't like, another might love. Use constructive criticism to grow, but don't let it discourage you from writing just one more chapter.
If you could, what would you do to change the world?
There is so much that could be changed in this day and age. It's sad times that we live in, but I would make sure to teach every child a love of reading. No matter your background, you can always use a good book to escape.
Is there anything more you would like to add?
I want to say that for a small town girl, I'm extremely honored to have won the 2017 BIBA for romance. I hope that everyone will continue to fall in love with my stories, because I plan to be around for a long time!